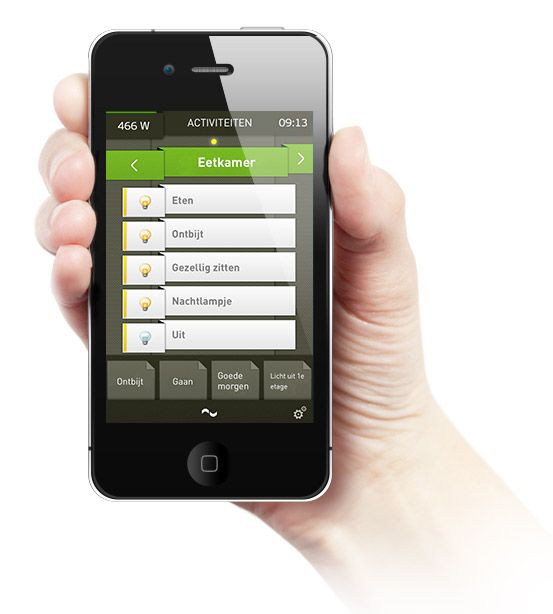 digitalSTROM is een smart home systeem dat makkelijk en snel te installeren is zonder hak- of breekwerk. Het intelligente smart home systeem verbindt elektrische apparaten zoals verlichting, jaloezieën, beveiligingsfuncties en deurbellen tot een slim netwerk.

Wat het netwerk onderscheidt is dat de geïnstalleerde techniek via de bestaande stroomleidingen communiceert en bediend kan worden door het gebruik van lichtschakelaars, het internet of via een smartphone.

Thuiskomen en ook het gevoel hebben dat je thuiskomt. Je huis weet namelijk dat jij thuis komt. de lichten gaan aan zoals jij wilt en dit op ieder gewenst tijdstip van de dag. Aangenaam worden de kamers op temperatuur gehouden en je kamers spelen bij thuiskomst je favoriete muziek af via de SONOS.

Met digitalSTROM ervaar je wat echt smart wonen is. digitalSTROM gebruikt de bestaande stroomleidingen in je woning en is daardoor uitermate geschikt voor toepassing in bestaande - of renovatie woningen!

De bestaande elektrische installatie wordt gebruikt als energievoorziening voor de kleine digitalSTROM-chips, maar ook als slim communicatienetwerk. Zo kun je alle elektrische apparaten in huis ook op afstand bedienen. Al je apparaten worden met elkaar verbonden en intelligent gemaakt.

Vervolgens kun je ze besturen via lichtknop, smartphone of tablet. Deze nieuwe techniek biedt ongekende mogelijkheden op het gebied van luxe en wooncomfort.
Wilt u een offerte ontvangen of een gesprek voor advies op maat? 

Neem dan contact met ons op!