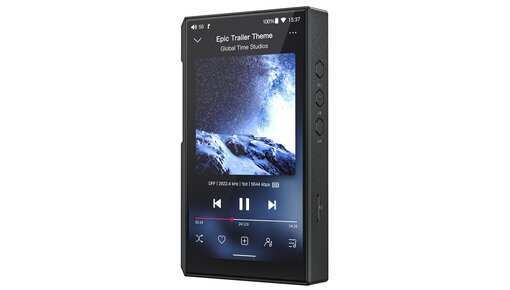 Digital Audio Players (DAP)
With portable audio players, you can enjoy your favorite music wherever you want. Score your portable audio players with Wifimedia.
More...
Free returns in The Netherlands and Belgium
More than 15 years the streaming specialist
Portable audio players
A portable audio player lets you enjoy your favorite music wherever you want. Audio players come in many different sizes and designs. Wifimedia offers a wide range of Hi-Res certified music players, most of which are equipped with Bluetooth, can play native DSD files and sometimes even offer MQA support. Below you will find a selection of audio players that we carefully selected for you based on price and performance.
Why a portable audio player?
Compared to a smartphone a portable music player offers several advantages. If you often listen to music on the way to school or work, an audio player doesn't drain the battery charge of your phone. A Portable audio player is specifically designed for music playback and more often provides a substantially higher sound quality than a smartphone. Many music players have a microSD card slot so you can take larger highres libraries on-the-go.
Use at home
Many premium models can be used as a good sounding USB-DAC for your sound system at home. These models are often equipped with Bluetooth and Wi-Fi functionality. This allows you to play music from a computer, laptop, phone or through a music service such as Spotify or Tidal installed on the audio player itself. So, if you want to maximize the benefits of a music player, it is important that you take a good notice of the music players' possibilities before ordering.
Why Wifimedia?
Wifimedia is one of the first suppliers of digital music players and streaming audio solutions in the Benelux. Today we supply a wide range of good sounding and highly functional audio players by van Sony, Shanling and FiiO. You can order these quickly and securely through our web shop. Do you need help making the right choice? With our many years of knowledge and developed skills we can help you to make a choice that perfectly suits your specific needs. Please contact one of our employees by phone or send your question by email. Our employees are ready to advise and assist.