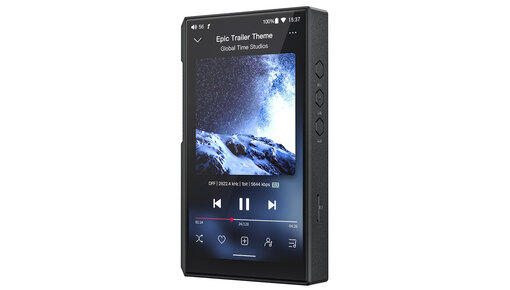 DAP's, DAC's & Amplifers
You like perfect sound? Then a headphone amplifier is certainly not an unnecessary luxury. If you want to enjoy music optimally, choose a headphone amplifier from Wifimedia.
More...
As a demanding music enthusiast, most likely you prefer to enjoy your favorite music through your headphones in the best possible sound quality. However, you might miss that extra bit of depth and openness while listening with a smartphone, tablet or laptop. This of course is unfavorable. Premium quality headphones deserve an equally good headphone amplifier to experience even the slightest nuances. Wifimedia supplies a wide range of perfect sounding headphone amplifiers. Below you will find an overview of our most popular models.
When to choose for a headphone amplifier?
The impedance and the sensitivity of both the amplifier chip and the earphones supplied with your smartphone is a perfect match. For the best possible sound quality, it is also important that both your new headphones and the amplifier built-in your smartphone have a best possible match. However, premium headphones sometimes have a different impedance and sensitivity. This might be the issue when your high-quality headphones are not sounding that well combined with your smartphone. When this is the case, a headphone amplifier offers a solution.
Which amplifier fits my headphones?
Headphone amplifiers can be as simple as a jack plug that houses a stereo amplifier including a DAC to an exclusive desktop model with a highly functional preamplifier and a built-in state-of-the-art DAC. These more advanced models allow you to drive a set of active speakers and in some models, you can even connect several headphones at the same time. If you use your headphones mainly indoors, we would recommend for a desktop model. If you would like to use the amplifier on-the-go, a model with an Apple Lightning or USB connector would be an excellent choice.
Single-ended, balanced, digital or Bluetooth?
Most headphones are supplied with a single-ended headphones cable including a 3.5mm or 6.3mm jack plug. Premium headphones are sometimes shipped with a balanced cable including a 2.5mm jack or 4.4mm Pentaconn jack. Do your headphones have the possibility of a balanced connection, a headphone amplifier with a fully balanced design is the better choice for the best possible performance. If you want to connect your headphones digitally, an amplifier with a built-in DAC might be a clever choice. If you prefer to connect your headphones wirelessly, it is important that the amplifier is equipped with Bluetooth 5.0 and for the best possible compatibility supports multiple codecs such as AAC, SBC, aptX, aptX LL, aptX HD and LDAC.
Choosing a suitable headphone amplifier
Are you looking for a matching amplifier for your headphones or are you looking for both an amplifier and headphones? All headphones we provide are listed with clear information about impedance and sensitivity to make the perfect match. With all our headphone amplifiers we clearly indicate whether the impedance of the headphones is suitable for use with this type of amplifier. Our most popular headphone amplifiers are supplied by AudioQuest, FiiO, Sennheiser and Chord Electronics.
Personal advice
If you have questions about the choice for a suitable headphone amplifier, our head-fi specialists are happy to assist you in your quest. Would you like to try different amplifiers with your headphones first? You are most welcome to visit our Wifimedia Experience Center in Arnhem and take all the time you need to listen to our broad selection of headphone amplifiers.