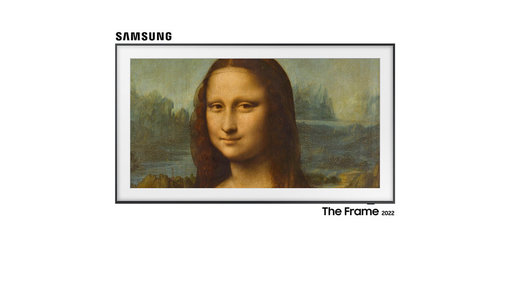 Samsung The Frame
Are you looking for a different kind of TV that doesn't stand out as a black surface on the wall? Then the Samsung The Frame is perfect for you. This beautiful TV comes in combination with a 'picture' frame, thus, it hardly stands out.
More...
Especially for artists, lovers of design and fine art, Samsung developed a unique 4k UHD television model: the Samsung 'The Frame'. Due to its remarkable design, this innovative model perfectly matches your individual lifestyle and seamlessly fits into any style of interior. With this Samsung The Frame you can enjoy movies and your favorite television series in an unparalleled image quality. When the television is switched off, it transforms into a beautiful piece of art.
Art Mode
Samsung's 'Art Mode' is only applicable with Samsung's The Frame series. While this feature is enabled, instead of switching to standby, the television transforms into a digital picture frame after it is switched off. Samsung especially selected various world-famous collections of fine art that can be acquired through Samsung's online Art Store. Do you rather prefer to watch your self-made photo collection? Simply add them to your private galleries and amaze friends and family with your previously hidden talents. Thanks to the Quantum Dot panel with over a billion color shades and a 100% color volume, this model shows every digital masterpiece in a lifelike picture quality.
Always the best possible picture quality
The panel backlit intensity is automatically adjusted to the lighting conditions, so enjoy the picture with a similar emotion as if you were watching it for the first time in the art gallery or museum of fine arts. Mount this Samsung The Frame to the wall like a regular picture frame and enjoy stunning vivid images you only experience with Samsung's QLED technology.
Pick your style
The Samsung The Frame series come with a frame color of your choice. Just order the television including a white metal, black metal, light oak and walnut frame, so it perfectly matches with the picture frames in your living room. If you, over time, prefer to change art collections, you can do this easily through Samsung's online Art Store. Order the Samsung The Frame television safe and easy online through our Wifimedia web store. If you have additional questions about the Samsung The Frame series, please contact us. Our specialists are happy to assist.