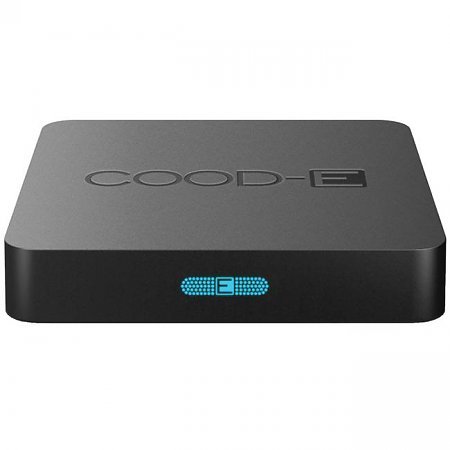 COOD-E's meest veelzijdige Media Streamer tot nu toe, de COOD-E TV 4K, biedt veel spannende nieuwe functies! Aangedreven door de nieuwste technologie van AMLogic® geeft de S912 Octa-Core chipset de COOD-E TV 4K verbluffende prestaties.

Geniet van de super playback van 4K Ultra HD-video's op 60 frames per seconde met ondersteuning voor HDR 10bit en luister naar kristalheldere HD Audio.

De COOD-E TV 4K draait op de nieuwste versie van Android® (7.1 Nougat), waarmee u al uw favoriete applicaties van de App Store direct op uw TV kunt openen. Met de Widevine Level 1 DRM-beveiliging biedt de COOD-E TV 4K brede support voor VOD apps, zoals YouTube 4K, Netflix en Ziggo Go.

De COOD-E TV 4K is ontwikkeld in Europa en tijdens de productie zijn alleen premium materialen en componenten gebruikt. De harde en software zijn voor elkaar geoptimaliseerd voor de beste prestaties en de COOD-E TV 4K heeft een gloednieuwe gebruikersinterface waarmee u het apparaat gemakkelijk en op een fijne manier kunt bedienen.

Via de ingebouwde Gigabit LAN, AC Wireless en Bluetooth 4.0 kunt u al uw favoriete inhoud van uw lokale netwerk, het internet en zelfs vanaf uw tablet of telefoon rechtstreeks naar uw TV streamen. Met een externe HDD via de USB poort van de COOD-E TV 4K of met een MicroSD kaart kunt het opslaggeheugen van de COOD-E zelfs nog verder uitbreiden.