Servicedesk +31 26 82 00 215
Free returns in The Netherlands and Belgium
More than 15 years the streaming specialist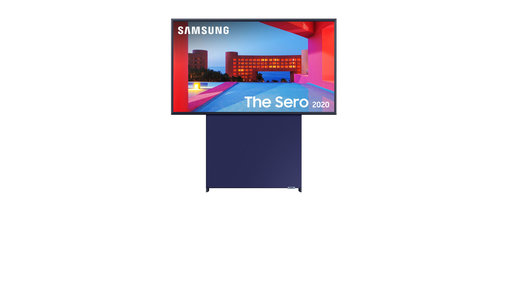 Samsung The Sero
With the Samsung The Sero Lifestyle TV, social media merges with multimedia. The screen automatically rotates from portrait to landscape for the most intense experience.
More...
Samsung The Sero
The Samsung The Sero is an innovative Lifestyle television specially designed for the playback of mobile content. This unique 4K UHD QLED smart television automatically rotates the screen from landscape to portrait view according to the smartphones orientation. With this you can view smartphone recorded 'vertical' content in large image format without annoying black bars. Thanks to the powerful built-in sound system, you can lift any form of content to the highest possible experience level.
Perfect image quality
Like Samsung's other QLED models, this tv is fitted with the latest technology. By using a powerful Quantum Processor 4K and Samsungs Quantum Dot technology you will experience an impressive 4K Ultra HD HDR image quality. From the brightest elements to the most subtle shadow details, this QLED tv allows you to experience movies, television series and gameplay unlike ever before.
Lifestyle entertainer
This beautiful lifestyle tv is perfect for viewing all kinds of content, gaming and it features Amazon Alexa and Google Assistant. With Tap View you automatically play content from your NFC supporting smartphone on the TV. To activate this functionality, simply tap with your phone against the side of the tv. With this Samsung The Sero smart tv a whole new world enfolds before you.
Servicedesk +31 26 82 00 215
Free returns in The Netherlands and Belgium
More than 15 years the streaming specialist