Servicedesk +31 26 82 00 215
Free returns in The Netherlands and Belgium
More than 15 years the streaming specialist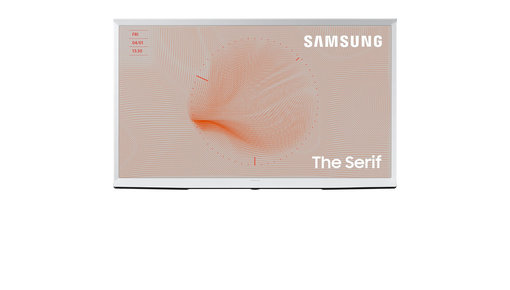 Samsung The Serif
The Serif 2020 offers the best of both worlds: a stylish TV design equipped with the latest technologies.
More...
Samsung The Serif
If you're searching for a television set with a most uncommon design, Samsung's 'The Serif' series would be a perfect model to make a clear design statement. This tv nicely fits into interiors with designer furniture, unique sculptures and pieces of art. The design of this lifestyle tv is based on the capital 'i'. This remarkably shaped The Serif was designed by the French designer duo Ronan and Erwan Bouroullec, which are widely known for their Vitra, Artek and Alessi designs.
The Serif is specifically designed not to be an ultra-thin tv and in today's markets this is pretty unique. With its remarkable design, this television is not meant to be wall mounted. However, because of its unique shape you can easily put it on a table, a cupboard or even on a sturdy wall shelf. Samsung also supplies four metal legs with which you can place the television anywhere in the room.
Perfect image quality
Like Samsung's other QLED models, this tv is fitted with the latest technology. By using a powerful Quantum Processor 4K and Samsungs Quantum Dot technology you will experience an impressive 4K Ultra HD HDR image quality. From the brightest elements to the most subtle shadow details, this QLED tv allows you to experience movies, television series and gameplay unlike ever before.
Serif Ambient Mode
You can enable The Serif Ambient Mode to display artwork, photos or useful information on the screen when the television set is switched to standby. The Serif has its 'own' Ambient Mode with two, by the Bouroullec brothers designed, patterns which accentuate the iconic design of this outstanding tv.
Smart entertainer
This beautiful designer tv is perfect for gaming, it features Amazon Alexa and Google Assistant. With NFC on TV and Tap View you automatically play content from your NFC supporting smartphone. To activate this functionality, simply place your smartphone on top or tap intuitively with your phone against the side of the tv. The Serif automatically switches to ambient mode and shares the content on screen. With this Samsung The Serif smart tv, a whole new world enfolds before you.
Servicedesk +31 26 82 00 215
Free returns in The Netherlands and Belgium
More than 15 years the streaming specialist