Your place of business, home, and other environments deserve a reliable and intuitive surveillance system. Synology's Surveillance Station delivers intelligent monitoring and video management tools to help safeguard all the important locations in your life.
What's Surveillance Station?
Surveillance Station is a robust video management system that runs on all Synology NAS. Its intuitive interface lets you watch live feeds from multiple IP cameras, play back recordings, batch manage camera settings, and do much more. With compatibility for major browsers and mobile devices, you can monitor and protect your physical environment from practically anywhere, anytime. Surveillance Station is available for free on Synology's.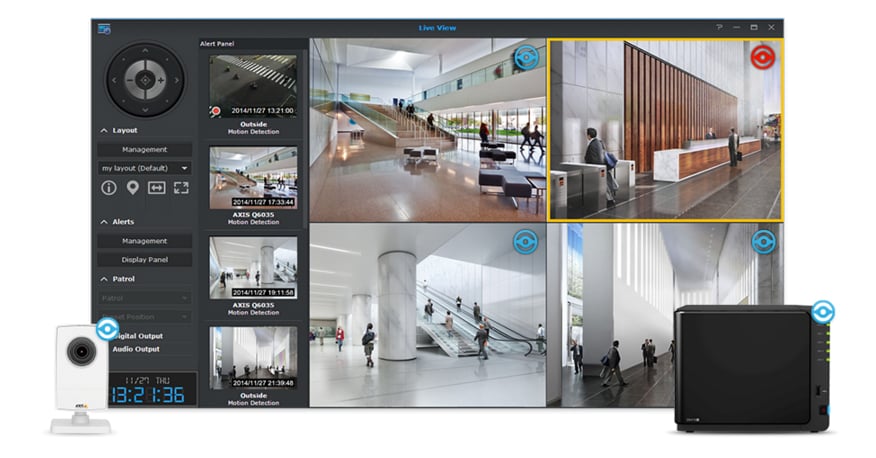 Easy setup and intuitive design
Simply install your IP cameras and Synology NAS, and then add cameras to Surveillance Station with the quick setup wizard. Batch camera installation and group management save even more time when working with large deployments.
Cross-platform and mobile surveillance
Surveillance Station works perfectly with your preferred operating system, web browser, or mobile device with the free mobile app — DS cam. Whether you're a Windows®, Mac®, iOS, or Android™user, you'll be able to monitor your property and assets from anywhere with an Internet connection.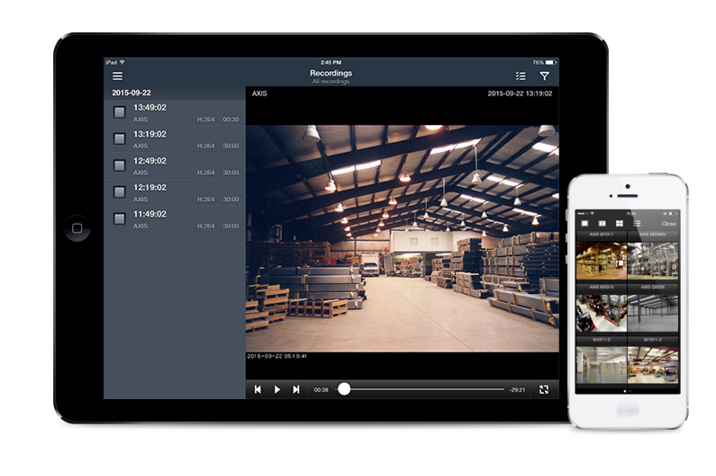 Scalable and secure storage
Surveillance Station stores video recordings on your Synology NAS, allowing you to take advantage of scalable storage capacity and data protection features. Rest assured your recordings are safe with various RAID levels and backup features suited for your individual needs.
Highly integrated camera support
Surveillance Station caters to your individual needs with extensive support for different types of cameras and devices from major hardware brands, so there's no need to break the bank and purchase new equipment when integrating Surveillance Station into your surveillance system.
Extensive camera support
Choose from over 3,000 IP cameras from 80 brands, including multi-lens and 4K cameras. Native integration for specialized cameras brings more stability, customization, and flexibility to your individual setup.
ONVIF Profile S & G Profile
Support for ONVIF Profile S and Profile G guarantees easy interoperability with an extensive range of IP cameras. That means system integrators and administrators benefits from an easier selection process when planning and purchasing cameras.
ONVIF general search interface
ONVIF search interface can provide a complete list including almost all of the network cameras within the local network, allowing you to find and add cameras to Surveillance Station with a few clicks.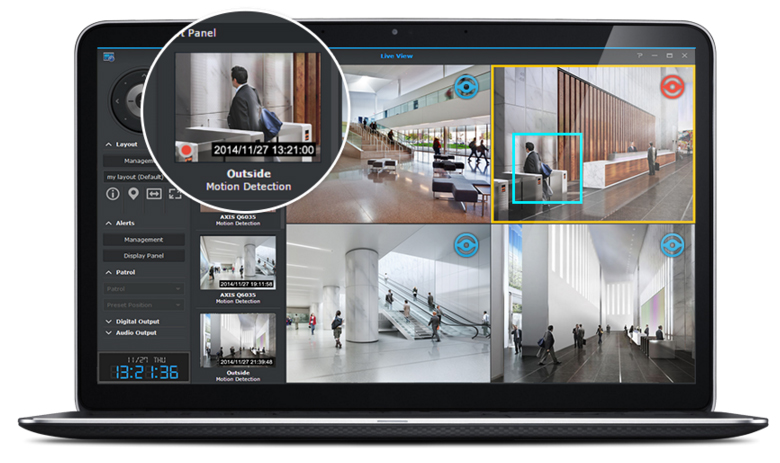 In-camera detection support
Surveillance Station 7.1 supports in-camera detection, including tampering detection, motion detection, and audio detection, allowing security personnel to monitor suspicious events with appropriate event detection features and even with more than one event detection features at a time. Moreover, utilizing in-camera detection can offload calculation tasks away from the PC's CPU, so it can be free for other important tasks.
New alert mechanism
Monitoring every nook and cranny can be difficult in a large scale environment. With Live View Analytics enabled, the events can now be highlighted directly on an E-map or live view in various ways, so security personnel don't need to worry about missing any events, as they can notice the camera and the location of the event straightaway.
Choose an NVR server
Synology offers everything you need to complete your NVR setup: the server for storing video recordings, camera licenses for installing IP cameras, sleek video management software, as well as numerous value-added features. By combining software and storage in a single device, Synology becomes your single point of contact for troubleshooting and support, which saves you and your security personnel valuable time.