Backup and sharing for enthusiast and pro photographers
For photographers or people with lots of photos, finding a device that stores your entire photo collection can be difficult. Synology NAS lets you centralize photo storage, access files from anywhere, and easily share photos with friends or clients. Simplify your photo storage now.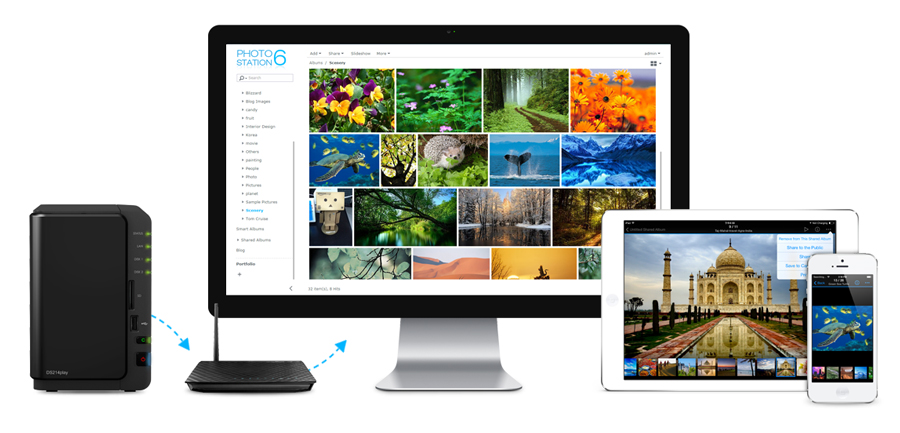 What is Synology NAS?
NAS (Network Attached Storage) is a storage device that connects to your home or office network and can include one or more hard drives. Files on the NAS can be accessed using a computer, tablet, or smartphone that is connected to your local network or even over the Internet. Synology develops the most intuitive and user-friendly NAS experience while offering tons of rich applications, allowing you to share files and enjoy multimedia anytime.
Centralized and expandable storage for all your photos
Synology offers a wide range of NAS models - some accommodate a single hard drive, while others accommodate a dozen. No matter how many terabytes of photos you have, there's no need to worry about storage space. With options to expand capacity any time by adding or swapping hard drives, Synology NAS can grow with your evolving storage needs.

Effortlessly sync photos to Synology NAS
A simple backup solution is essential for professional photographers. With Cloud Station, it's easy to synchronize photos from your computer to a Synology NAS. After importing photos from your camera, just toss them into a designated folder on your computer, and they'll automatically be uploaded to the Synology NAS. 
Beautiful photo albums with Photo Station
With Photo Station, you can create online photo albums or blogs to share with friends or clients. Free yourself from the storage limits imposed by third-party services and upload as many photos as your storage capacity allows. Easily organize photos, geotags, or share photos and videos to Facebook, Twitter, Flickr, Google+, and YouTube.
Anywhere access with QuickConnect
Have you ever arrived at a meeting and realized you forgot the external hard drive or DVD containing your client's photos? With Synology NAS, you can access photos from anywhere, without setting up any complicated network settings. Imagine having your entire photo collection at hand's reach, no matter where you are.
Protect your precious artwork
RAID protects your photos by creating redundant copies of data on multiple hard drives. That means photos and files remain intact, even if one of the hard drives breaks. For those who are technologically-challenged, Synology Hybrid RAID provides a hassle-free RAID solution that optimizes storage capacity and redundancy when using hard drives of differing sizes.
Backup to other devices or cloud storage
Accidents do happen. To make sure your photos are protected against natural disasters or hardware failure, Synology NAS provides handy backup tools. Simply back up photos to external hard drives, another Synology NAS, or even cloud storage services - like Amazon S3, Amazon Glacier, Google Drive, Dropbox, or others.
Works with Mac
®

 and iOS devices

Synology NAS plays nice with your Apple® products. With support for Apple Filing Protocol (AFP), Time Machine®, Airplay®, and in-house iOS apps, Synology NAS fits into your Mac and iOS environment perfectly, ensuring fast file access and guaranteed support for Synology's growing add-on ecosystem.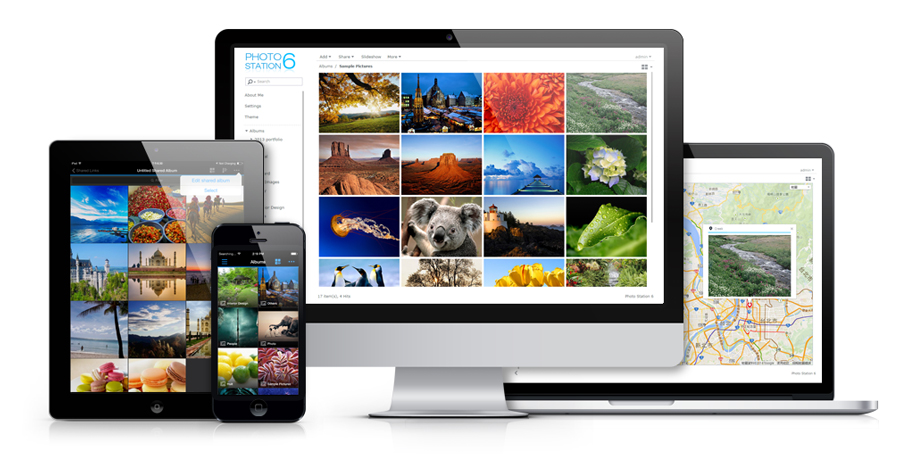 Recommended models for photographers
With a versatile lineup of devices catering to home users, small and medium-sized business, and large-scale enterprises, there's a Synology NAS for everyone.