Online:
Available in 2-3 weeks
Shop Arnhem:
Available in 2-3 weeks
5800+ reviews score 9.4 average
Free shipments over 30 euro in The Netherlands and Belgium
Free returns within The Netherlands and Belgium
Shipment in the EU
Information
NAD C 298
NAD has introduced some of the most innovative amplifier technology in its nearly 50-year history, starting with the 3020 on through advanced models like the 2200, the 208 and the M2. Now we're making the amazing new Eigentakt™ (self-clocking) technology, recently introduced to the world in the EISA Award winning Masters M33, available to a wider audience with the very affordable C 298. We are pleased to offer this unprecedented level of performance. In short, a perfect companion to the C 658 BluOS Streaming DAC preamplifier.
Amazing flexibility
The C 298 may be a basic power amplifier, but we've thought carefully about all the uses we normally encounter to create rich feature content. Selectable balanced inputs make the C 298 a natural for studio use or connection to High End Preamps and Processors. These inputs feature a trim control that is useful for matching with other components. A line out allows you to add even more power on the same channel for additional speakers or subwoofers. Auto-sense with selectable threshold is perfect for automating complex systems or hiding the amplifier from view in a cabinet. We even added a Ground Lug which can be very useful for eliminating ground loops and noise in complex multi-unit systems. Added to all this connectivity is a Bridge Switch that makes the C 298 an amazingly powerful Monobloc amplifier. Start with one and add a second C 298 later as you upgrade your speakers.
Getting the fundamentals right
It is surprising how many seemingly sophisticated products in the market today often lack many of the most basic requirements for satisfactory performance. Low noise circuitry, accurate channel balance, proper input and output impedance characteristics, high overload margins and stability under difficult speaker loads. NAD starts with getting these things just right and goes from there. Our line inputs, both Balanced and Single-ended, accommodate all kinds of analog source components by providing ideal input impedance characteristics with linear ultra-low noise buffer amplifiers to prevent any kind of sound degradation caused by improper loading of the source device. These are all the details you can hear.
Advanced Power
NAD has moved away from the old-fashioned and highly energy-consuming linear power supplies and Class AB output stages that waste nearly half the energy consumed by producing heat instead of sound. Instead, we have developed even better performing circuits based on switching power supplies and Class D output stages. Once thought to be inferior to traditional topologies, NAD's advanced work in this area has resulted in some of the best performing amplifiers regardless of the basic design principle. These new designs are highly linear over a wide bandwidth and deliver consistent performance across all speaker loads, representing a dramatic advance over previous models.
The generously sized power supply allows for easy delivery of 185 watts of continuous power and over 570 watts of instantaneous power for short-term musical transients. The innovative Asymmetrical Power-Drive makes full use of every last available Watt with its huge reserves of dynamic power to accurately reproduce musical transients without distortion or compression. It can operate with any AC mains voltage from 100v to 240v and delivers pure DC power to all the different stages of the C 298. This highly efficient power supply also provides near-perfect voltage regulation in a wide range of conditions and provides a solid noise-free foundation for the amplification stages.
Purifi 'Eigentakt' Amplifier Technology
Purifi is a Danish technology company that has brought together several leading industry engineers to apply advanced mathematical modeling to solve the last remaining limitations of audio amplifiers. While there are many good-sounding amplifiers on the market today, Purifi has taken a fresh look at every aspect of amplifier performance and found many seemingly small non-linearities that can make a dramatic difference in the overall sound. This return to first principles has resulted in a stunningly simple approach to some remarkably complex problems. With features and technology unmatched by other amplifiers in its class, the C 298 amplifier is a simple upgrade for any system and a surprising partner for the most sophisticated and advanced speakers on the market.
Features
185W x 2 Nominal output power into 8 Ohms
340W x 2 Rated output power into 4 Ohms
Stereo Dynamic Power 260/490/570W @ 8/4/2 Ohms
620W x 1 Rated output into 8 Ohms Bridge mode
Mono Dynamic Power 1000/1100W @ 8/4 Ohms
Purifi Eigentakt™ Amplifier Technology
Balanced Line Inputs
Single line input
Input Level Control
Line output for Daisy Chaining
12V Trigger In/Out
Auto Power On with Selectable Threshold
IR On/Off
Ground Switch
Detachable AC Power Cord
Awards & Reviews
EISA
Power Amplifier 2021-2022 NAD C 298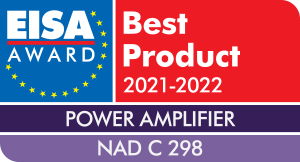 "NAD began its story by making amplifiers, and has been researching and developing the technology for nearly half a century. All this is reflected in the unobtrusive-looking C 298 power amplifier, designed for use in everything from conventional hi-fi and home theater systems to hidden custom installations. It has single-ended and balanced inputs for flexibility, and switchable signal sensing for remote control, while its energy-efficient Purifi Eigentakt amplification technology allows it to drive just about any speaker with impunity. The sound is spectacular, and expandable too - switch it to bridge mode, and you've got a 600W+ monoblock!"
Specifications
| | |
| --- | --- |
| Power Output: | 185 watts at 8 ohms | 340 watts at 4 ohms |
| Analog Inputs: | 2x RCA | 2x XLR |
| Digital Inputs: | N/A |
| Headphone Output: | Yes |
| Supported File Formats: | N/A |
| Streaming Services: | N/A |
| Radio: | N/A |
| Airplay: | No |
| Bluetooth: | No |
| DLNA: | N/A |
| Network: | N/A |
| Dimensions (HxWxD): | 120 x 435 x 390mm |
| Weight: | 11.2kg |
| Warranty: | 60 Months |
| Package Contents: | NAD C 298 |