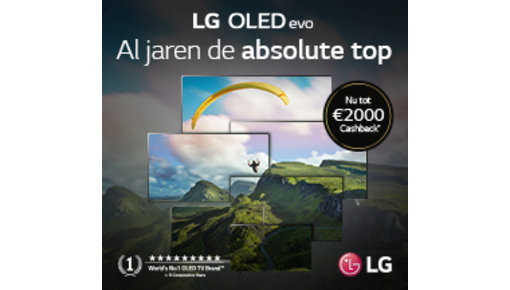 LG OLED & QNED CashBack
Koop tussen 25 april 2022 en 30 juni 2022 een LG Televisie actiemodel bij Wifimedia en ontvang tot € 2000,- aan cashback retour.
More...
Servicedesk +31 26 82 00 215
Free returns in The Netherlands and Belgium
More than 15 years the streaming specialist
Light up your world of sports, movies of gaming. Wat je ook kiest, kies voor een LG Televisie & Soundbar. Verbluffend contrast en een adembenemende beeld- en geluidsbeleving.
Koop tussen 25 april en 30 juni een LG Televisie actiemodel bij Wifimedia en ontvang tot €2000,- aan cashback retour. (Registratie verplicht via lgpromotions.nl)
Promotiemodellen OLED
OLED88Z29LA
OLED77Z29LA
OLED83G26LA
OLED77G26LA
OLED65G26LA
OLED83C24LA
OLED77C25LB
OLED65C25LB
OLED65A26LA
Promotiemodellen QNED
75QNED996QB
65QNED996QB
86QNED866QA
75QNED866QA
75QNED876QB