Slim wonen was nog nooit zo makkelijk
digitalSTROM is een smart home systeem dat makkelijk en snel te installeren is zonder hak- of breekwerk. Het intelligente smart home systeem verbindt elektrische apparaten zoals verlichting, jaloezieën, beveiligingsfuncties en deurbellen tot een slim netwerk. 

Wat het netwerk onderscheidt is dat de geïnstalleerde techniek via de bestaande stroomleidingen communiceert en bediend kan worden door het gebruik van lichtschakelaars, het internet of via een smartphone.

Thuiskomen en ook het gevoel hebben dat je thuiskomt. Je huis weet namelijk dat jij thuis komt. de lichten gaan aan zoals jij wilt en dit op ieder gewenst tijdstip van de dag. Aangenaam worden de kamers op temperatuur gehouden en je kamers spelen bij thuiskomst je favoriete muziek af via de SONOS. 

Met digitalSTROM ervaar je wat echt smart wonen is. digitalSTROM gebruikt de bestaande stroomleidingen in je woning en is daardoor uitermate geschikt voor toepassing in bestaande - of renovatie woningen!  

De bestaande elektrische installatie wordt gebruikt als energievoorziening voor de kleine digitalSTROM-chips, maar ook als slim communicatienetwerk. Zo kun je alle elektrische apparaten in huis ook op afstand bedienen. Al je apparaten worden met elkaar verbonden en intelligent gemaakt. 

Vervolgens kun je ze besturen via lichtknop, smartphone of tablet. Deze nieuwe techniek biedt ongekende mogelijkheden op het gebied van luxe en wooncomfort. 
Wifimedia is geautoriseerd dealer en gecertificeerd installateur van digitalSTROM.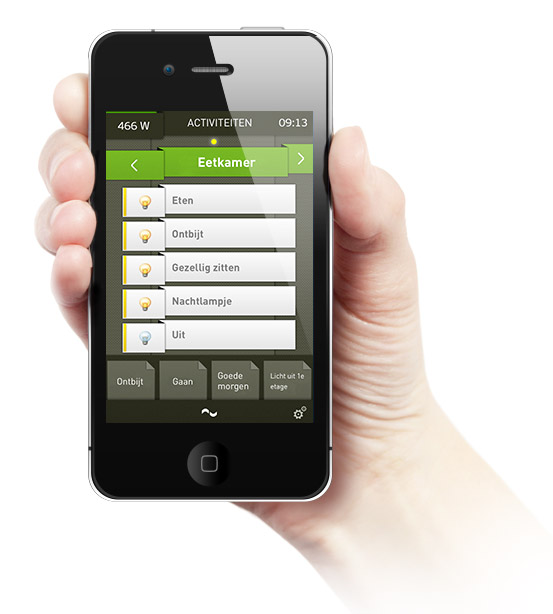 Steeds meer mogelijkheden
Alle digitalSTROM-toepassingen kunnen individueel worden geconfigureerd en gecombineerd. De mogelijkheden zijn bijna onbegrensd, want digitalSTROM groeit mee met uw behoeften en wensen.
Steeds meer ontdekken
Als digitalSTROM-gebruiker beleeft u het zelf: wanneer digitalSTROM eenmaal is geïnstalleerd, raakt u geïnspireerd om het systeem te gebruiken voor steeds weer nieuwe, heel persoonlijke toepassingen in uw dagelijkse leven. Zo zorgt digitalSTROM niet alleen voor een groter wooncomfort, maar stimuleert tegelijk ook uw creativiteit.

Een overzicht van de digitalSTROM-producten en hun functies
digitalSTROM-apps zijn voorgeprogrammeerde toepassingen, waarmee u eenvoudig en comfortabel de praktisch eindeloze digitalSTROM-mogelijkheden kunt gebruiken. Alle apps kunnen op ieder moment worden gedownload en worden automatisch geïnstalleerd.
Tijdschakelklok
Met deze App kunt u apparaten, lichtscènes, rolluiken etc. automatisch laten schakelen op de tijden wanneer u dat wilt, zelfs afhankelijk van zonsop- en -ondergang
Persoonlijke acties
Met deze App kunt u meerdere acties bundelen. Gebundelde acties kunnen dan worden uitgevoerd via één druk op de lichtknop, de smartphone of automatisch via een tijdschakelklok. Zo kunt u bijvoorbeeld alle lichten op een verdieping tegelijkertijd aan- of uitschakelen of alle rolluiken met één druk op de knop openen of sluiten.
Event Responder
U schakelt in een kamer het licht uit en de Event-Responder-App zorgt er bijvoorbeeld voor dat automatisch ook het licht in een andere kamer uitgaat. Of u gaat van de eerste naar de tweede verdieping, schakelt daar het licht aan waardoor tevens het licht op de benedenverdieping uitgaat.
Aanwezigheidssimulatie
Deze App simuleert uw aanwezigheid, bijvoorbeeld tijdens uw vakantie. U definieert eerst lichtschakelingen, rolluikbewegingen en andere acties en geeft vervolgens de afwezigheidsdata op een kalender in, de rest gaat automatisch. U kunt ook de aanwezigheidssimulatie elke keer wanneer u uw woning verlaat automatisch laten activeren.
Verbruiksanalyse
Met deze App ziet u in realtime hoeveel stroom uw apparaten verbruiken. Tevens ziet u het effect op uw stroomverbruik wanneer u bepaalde scènes oproept.