Synology Camera Solutions
Uw bedrijfsruimte, thuis en andere omgevingen verdienen een betrouwbaar en intuïtief bewakingssysteem. Surveillance Station van Synology levert intelligente volg- en videogereedschappen om alle belangrijke plaatsen in uw leven te bewaken.
Wat is Surveillance Station?
Surveillance Station is een robuust videobeheersysteem dat draait op alle Synology NAS. Met de intuïtieve interface kunt u live beelden van meerdere IP-camera's bekijken, opnames terugspoelen, camera-instellingen in groepen beheren en nog veel meer. Met compatibiliteit voor de grootste browsers en mobiele apparaten kunt u uw fysieke omgeving praktisch altijd en overal volgen en beschermen. Surveillance Station is gratis beschikbaar in het Package Centervan Synology.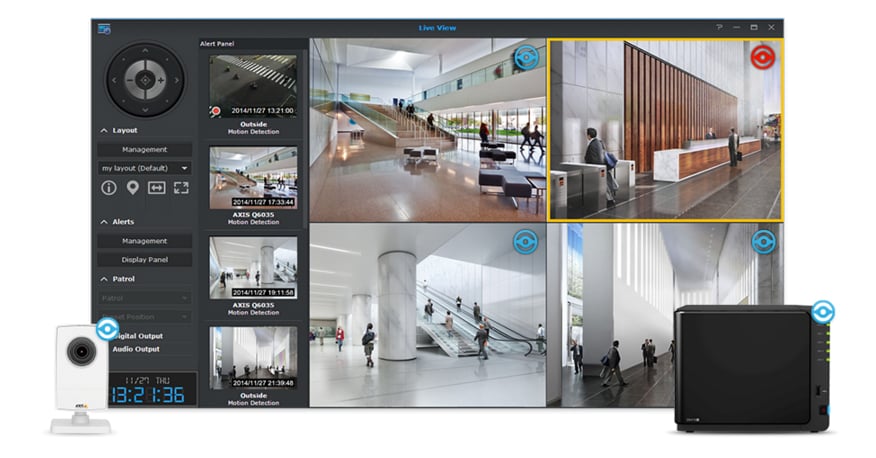 Eenvoudig installeren en intuïtief ontwerp
Installeer simpelweg uw IP-camera's en Synology NAS, en voeg vervolgens met de snelle start-handleiding camera's toe aan Surveillance Station. Het in groepen installeren en beheren van camera's bespaart nog meer tijd wanneer u met grote toepassingen werkt.
Meerdere besturingssystemen en mobiele bewaking
Surveillance Station werkt perfect met het besturingssysteem, de webbrowser of het mobiele apparaat van uw keuze, met de gratis mobiele app - DS cam. Of u nu een Windows®, Mac®, iOS of Android™ gebruiker bent, u zult uw terrein en eigendommen overal vandaan kunnen volgen via een Internetverbinding.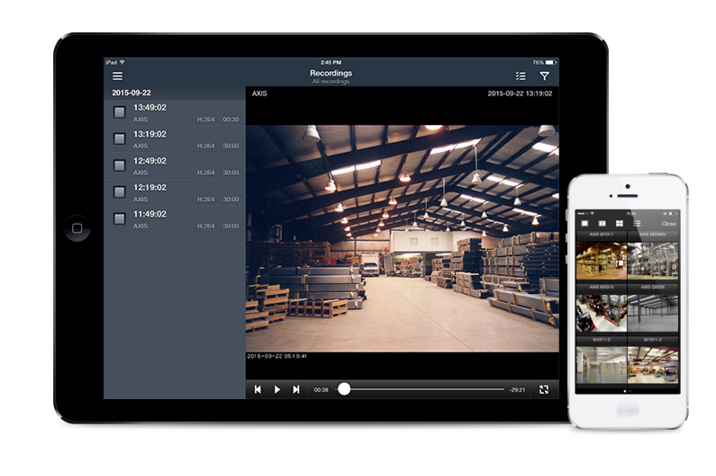 Schaalbare en veilige opslag
Surveillance Station slaat video-opnames op in uw Synology NAS, waardoor u kunt profiteren van schaalbare opslagcapaciteit en gegevensbeschermingsopties. Vertrouw erop dat uw opnames veilig zijn met verschillende RAID-niveaus en backup-functies die aansluiten op uw persoonlijke behoeften.
Zeer goed geïntegreerde camera-ondersteuning
Surveillance Station voorziet in uw persoonlijke behoeften met uitgebreide ondersteuning voor verschillende typen camera's en apparatuur van grote hardware merken, dus u hoeft geen leningen af te sluiten om nieuwe apparatuur aan te schaffen wanneer u Surveillance Station in uw bewakingssysteem integreert.
Uitgebreide ondersteuning voor camera
Kies uit meer dan 3.000 IP-camera's van 80 merken, waaronder multilens- en 4K-camera's. Natuurlijke integratie voor gespecialiseerde camera's brengt meer stabiliteit, aanpassingsmogelijkheden en flexibiliteit voor uw persoonlijke opstelling.
ONVIF Profile S & Profile G
Ondersteuning voor ONVIF Profile S en Profile G garandeert eenvoudige samenwerking met een uitgebreid scala van IP-camera's. Dat betekent dat systeeminstallateurs en administrators profiteren van een gemakkelijker selectieproces bij het plannen en aanschaffen van camera's.
ONVIF algemene zoekinterface
De zoekinterface van ONVIF kan een volledige lijst verstrekken, met inbegrip van bijna alle camera's in het lokale netwerk, zodat u uw camera met een paar klikken kunt vinden en aan Surveillance Station kunt toevoegen.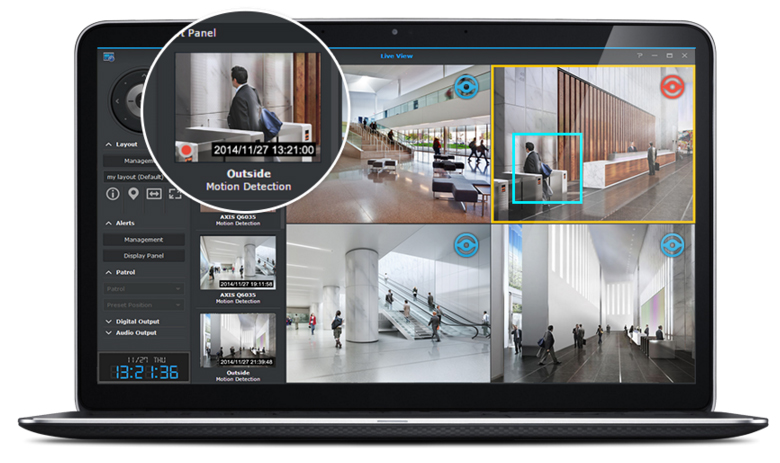 Camera's met visooglenzen en meerdere lenzen
Multi-channel ondersteuning voor camera's met visooglenzen en meerdere lenzen levert een efficiënte en kosteneffectieve oplossing voor de bewaking. Gebruik slechts één camera om blinde vlekken te sluiten en overzie een breed panorama. Of zie meer met vormherstel in de camera of software voor visoogcamera's gemonteerd op muren en het plafond1.
Centraal beheersysteem
Centraal beheersysteem (CMS) is ontworpen voor de bewaking via meerdere sites en meerdere servers. De CMS-infrastructuur bestaat uit een "CMS host server" die de totale controle heeft over andere "registratieservers" op verschillende locaties, zodat beveiligingspersoneel grote beveiligingsnetwerken effectief kan volgen en beheren.
Efficiënt beheer
Grootschalige bewakingssystemen kunnen efficiënt worden beheerd. CMS biedt gecentraliseerde controle vanuit een enkel toegangspunt, zodat beheerders minder tijd kwijt zijn aan het onderhouden van registratieservers en IP-camera's die verspreid zijn over meerdere locaties. Gecentraliseerd beheer helpt menselijke fouten als gevolg van zich herhalende stappen te voorkomen.
Gecentraliseerde en flexibele bewaking
Voor grote winkels, kantoren of andere toepassingen die meerdere servers of locaties omvatten, kan het volgen van live toevoer en de registratie een zware en vermoeiende taak worden. CMS biedt gestandaardiseerde besturing voor beveiligingspersoneel om eenvoudig bewakingsbeelden te filteren op registratieserver, logs van alle servers op één plek te centraliseren, of meerdere IP-camera's naar verschillende registratieservers te verplaatsen, terwijl de cameralicenties op de CMS host worden bevestigd. Besteed minder tijd aan tijdrovend beheer, en meer tijd aan het bewaken van uw omgeving.
De implementatie van uw bewakingssysteem begint hier!
Synology biedt alles wat u nodig hebt om uw NVR-opstelling te voltooien: de server voor het opslaan van uw video-opnames, cameralicenties voor het installeren van IP-camera's, eenvoudige videobeheersoftware en talloze waardevolle functies. Door software en opslag in een enkel apparaat te combineren, wordt Synology uw enige punt voor probleemoplossing en ondersteuning, wat u en uw beveiligingspersoneel veel tijd scheelt.

Bekijk hier alle modellen