Servicedesk +31 26 82 00 215
Free returns in The Netherlands and Belgium
More than 15 years the streaming specialist

Presentation & Converencing Solutions
Meet the CTOUCH Riva, one of today's most powerful interactive business tools. The ideal meeting tool for teams where not everyone is working at the same location. Use this interactive screen to share any kind of content from written word to film clips. Don't worry about the sound quality. The JBL sound system transforms any room into a concert hall.
The CTOUCH Riva is a touch-sensitive presentation screen, computer system and sound system in one. This powerful modularly designed solution is available in different sizes and can be expanded with an adjustable, mobile base and various optional BRIX modules. You can opt for a Wifi module, an NFC reader, fingerprint scanner, Human Presence detection or a combination of these.
Your ideal presentation partner
The CTOUCH Riva allows you to communicate with decentralised teams from a central (office) location. With the support of Microsoft Teams software, the Riva seamlessly integrates into your organisation. Discuss the annual results face-to-face with stakeholders worldwide and present them with the impact as if you were presenting them on location at the time. With the CTOUCH Riva you can remove time-consuming events from your calendar and also save on paper agendas, meeting minutes and paper attachments.
The CTOUCH Riva is so user friendly that even the least experienced employees should handle it with ease. Simply plan a meeting via your (digital) agenda and the CTOUCH's graphical user interface indicates neatly when the next meeting is scheduled and who the initiator is. This way you will never be faced with any surprises when you want to start your important sales meeting.
For all business sizes
This Riva is intended for small and medium-sized companies and is ideally suited for vertical segments such as education, healthcare and government institutions. Inform your research teams, conduct video conferences with clients, hold brainstorming sessions with marketing staff worldwide and discuss business deals with clients while sitting at the conference table in a limited team setting. Take notes on the big screen or control the screen with your notebook and share everything via your conversation partners' laptops.
Are you self-employed in a creative business sector where you often share concepts with your clients? With the CTOUCH Riva you can discuss the first concept creations in detail with your clients as if they are sitting next to you at the table. Adjust the first sketches live, make clarifying notes and share them by email at the end of the session.
Are you interested in CTOUCH's solutions and would you like to know what benefits these solutions offer your organisation? Our advisors are ready to inform you in detail about the many innovative features and unique possibilities.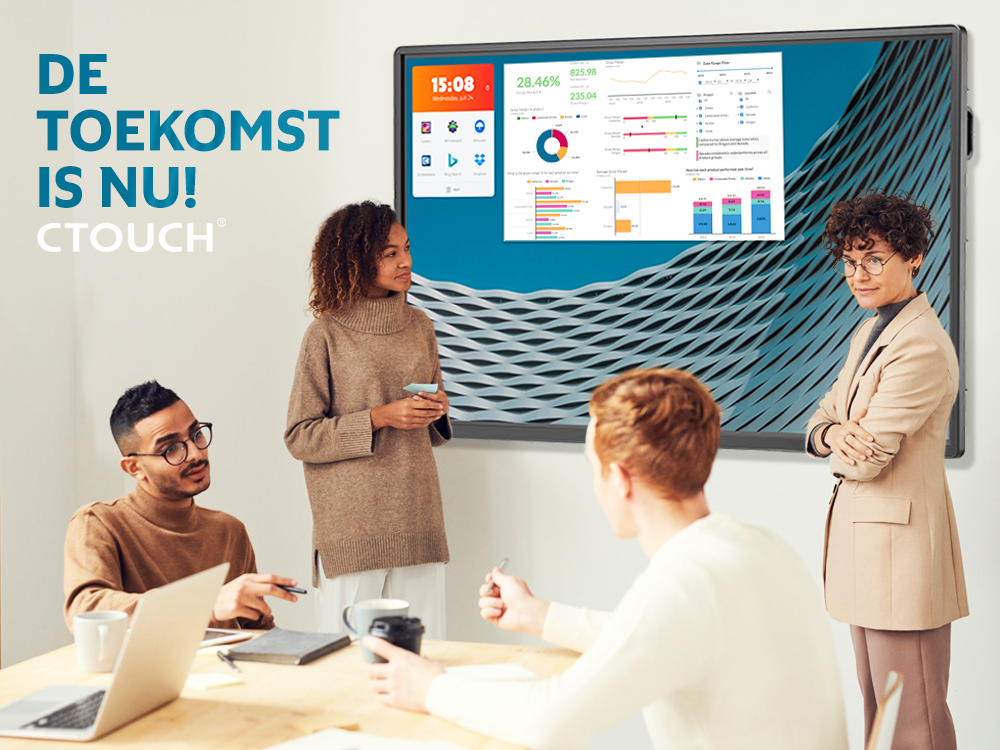 Servicedesk +31 26 82 00 215
Free returns in The Netherlands and Belgium
More than 15 years the streaming specialist