Backup and share for photographers
Foto's op de juiste manier opslaan
Voor fotografen of personen met veel foto's is een apparaat waarop een complete fotocollectie op één plek kan worden opgeslagen een absolute noodzaak. Synology NAS biedt u de mogelijkheid uw foto's centraal op te slaan, met overal toegang tot de bestanden en meer productiviteit dankzij handige apps om foto's te delen. Bewaar uw foto's nu nog eenvoudiger.
Wat is Synology NAS?
NAS (Network Attached Storage) is een opslagapparaat dat verbinding maakt met uw netwerk thuis of op het werk en dat meer dan één harddisk bevat. Bestanden op NAS zijn thuis of via het internet met een computer, tablet of smartphone bereikbaar. Synology ontwikkelt de meest gebruikersvriendelijke NAS-ervaring en biedt tegelijkertijd ongelooflijk veel rijke applicaties waarmee u van uw bestanden en multimedia kunt genieten en ze kunt delen.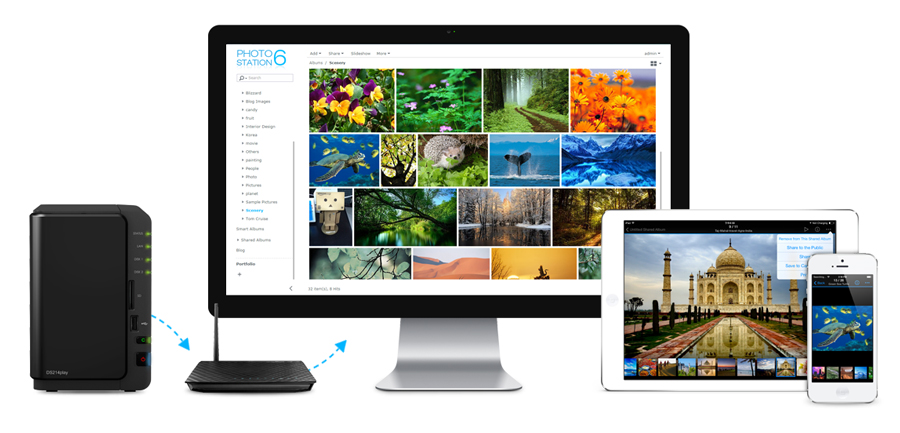 Gecentraliseerde en uitbreidbare opslag voor al uw foto's
Synology biedt een uitgebreid assortiment NAS-modellen - sommige met één harddisk, andere met een dozijn harddisks. Het maakt niet uit hoeveel tetrabytes aan foto's u bezit, er is altijd genoeg opslagruimte. Dankzij de mogelijkheid om op elk moment de capaciteit uit te breiden door harddisks uit te wisselen of toe te voegen, kan Synology NAS samen met uw groeiende opslagbehoeften groeien.
Probleemloos foto's synchroniseren naar Synology NAS
Voor professionele fotografen is eenvoudig back-uppen heel belangrijk. Met de Cloud Station kunt u de foto's die op uw computer zijn opgeslagen naar een Synology NAS synchroniseren. U importeert de foto's vanuit uw fotocamera, u stopt ze in een specifieke map op uw computer en de foto's worden automatisch naar Synology NAS geüpload.



Schitterende fotoalbums met Photo Station
Met Photo Station kunt u online fotoalbums of blogs creëren die u samen met uw vrienden of klanten kunt delen. Bevrijd uzelf van de opslaglimieten van derden en upload zoveel foto's als uw opslagcapaciteit mogelijk maakt. Organiseer zonder problemen uw foto's, geotags of deel foto's en video's met Facebook, Twitter, Flickr, Google+ en YouTube. 
Neem uw foto's overal naar toe met de mobiele apps
Bekijk probleemloos de foto's of video's die u op Synology NAS heeft opgeslagen met uw smartphone of tablet. Schakel de onmiddellijke uploadfunctie in om automatisch de foto's op uw mobiele apparaten in uw Synology NAS op te slaan. Meer informatie
Stream foto's naar grootbeeld tv's
Stream foto's naar smart tv's of andere apparaten, zoals Apple TV, Chromecast en Roku-spelers. Stream de foto's die u aan uw klanten toont direct vanuit Synology NAS naar uw grootbeeld tv. 
Verstuur de foto's met links waarmee u kunt delen
Bespaar tijd en produceer minder afval door de foto's via internet naar uw klanten en vrienden te sturen. Stuur een link als een batch gereed is en laat uw klant de foto's direct vanuit uw Synology NAS downloaden.
Overal toegang met QuickConnect
Is het wel eens gebeurd dat u bij een afspraak aankwam en dat u de externe harddisk of de dvd met de foto's van uw klant was vergeten? Met Synology NAS kunt u uw foto's overal bereiken, zonder dat daar ingewikkelde netwerkinstellingen voor nodig zijn. Stelt u zich voor hoe het is om uw volledige fotocollectie altijd binnen handbereik te hebben, waar u ook bent. 
Bescherm uw waardevolle werk
RAID beschermt uw foto's door op meerdere harddisks redundante kopieën van de gegevens te maken. Dit betekent dat de foto's en bestanden altijd intact zijn, ook als een van de harddisks kapot gaat. Synology Hybrid RAID biedt aan iedereen die niet met technologie overweg kan een probleemloze RAID-oplossing, die bij het gebruik van harddisks van verschillend formaat opslagcapaciteit en redundantie optimaliseert. 
Back-up naar andere apparaten of cloud-opslag
Ongelukken gebeuren. Om uw foto's tegen natuurrampen of hardware-problemen te beschermen, biedt Synology NAS handige back-up tools. Maak eenvoudig een back-up van uw foto's op externe harddisks, in een andere Synology NAS of cloud opslagservices - zoals Amazon S3, Amazon Glacier, Google Drive, Dropbox en dergelijke. 
Werkt op Mac® en iOS-apparaten
Synology NAS werkt perfect samen met uw Apple®-producten. Dankzij de ondersteuning voor Apple Filing Protocol (AFP), Time Machine®, Airplay®, en eigen iOS-apps, past Synology NAS perfect in uw Mac- en iOS-omgeving. Synology NAS biedt u snel toegang tot uw bestanden en gegarandeerde ondersteuning voor het groeiende ecosysteem van Synology.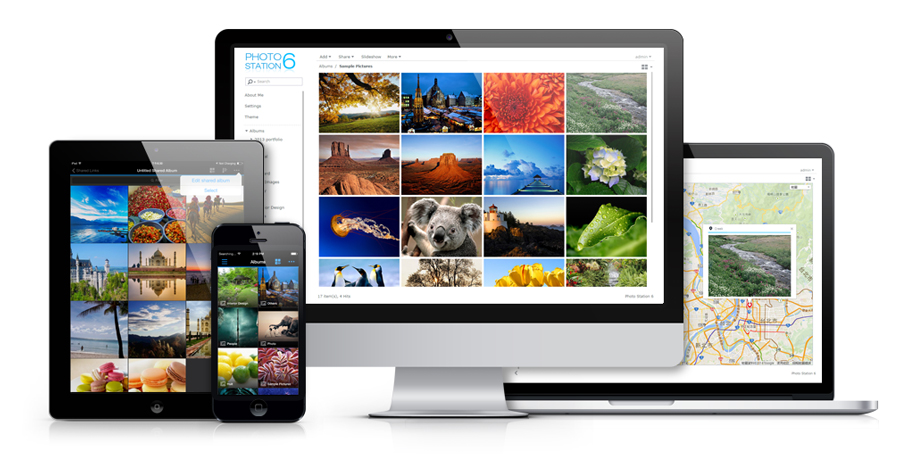 Aanbevolen modellen voor fotografen
Met een veelzijdig assortiment apparaten voor particuliere gebruikers, kleine, middelgrote en grote bedrijven is er een Synology NAS voor iedereen. Bestudeer de aanbevolen modellen hieronder of ontdek waar u het kunt kopen als u al aan een model denkt.
Bekijk hier alle NAS modellen die geschikt zijn voor het opslaan en delen van foto's.