Information
QNAP TVS-882T-i5-16G
The TVS-882T features advanced hardware by adopting 6th Generation Intel® 14nm multi-core processors and was designed around the concept of tiered storage, application-based partitioning and network traffic distribution. Providing a Thunderbolt DAS/NAS/iSCSI SAN triple solution, the TVS-882T delivers the incredible power of Thunderbolt™ 2 to double the speed potential to 20 Gbps, supports smooth 4K 60 fps video transfer and display, and is a perfect match for Thunderbolt-equipped Mac* users for 4K workflows, file storage and high-speed sharing. Incorporating reliability, security and rich applications, the TVS-882T delivers the highest transfer rates ever as storage with persistent throughput, and provides a complete business-ready storage solution.
Built-in M.2 SATA 6Gb/s slots & 2.5" SSD slots
Qtier technology and SSD cache enable 24/7 optimized storage efficiency
The Network & Virtual Switch app assists network traffic distribution, and re-routes dedicated bandwidth for diverse applications
Triple HDMI output (including one HDMI 2.0) for smooth 4K video playback
Thunderbolt™ 2 (20Gbps) and 10GbE dual network for on-the-fly video editing and speedy sharing
4 available combinations with Mac/PC and JBOD for flexible attaching, sharing and expansion
Scalable up to 432 TB with the Thunderbolt™ 2 storage expansion enclosures TX-800P/ TX-500P
Virtual JBOD (VJBOD) allows to use QNAP NAS to expand the  TVS-882T's storage capacity
Supports QRM+ unified remote server management, QvPC technology, virtual machine and container applications, and storage for virtualization
* Requires OS X El Capitan 10.11 (or newer).
Thunderbolt™ 2 NAS, extraordinary performance
The TVS-882T is powered by a high-performance Intel® Core™ i5 quad-core processor and 16GB DDR4 RAM, driving outstanding system performance for CPU-demanding applications. Offering a comprehensive DAS/NAS/iSCSI SAN multi-mode storage solution in a compact form factor, the TVS-882T not only features Thunderbolt™ 2 technology but also has dual 10GbE ports giving you incredible flexibility for network connectivity.

Note: Thunderbolt cables are not included as standard. Users must purchase Thunderbolt cables separately.
Advanced hardware for greater efficiency
High-performance hardware, well-designed application functionalities and thoroughly-planned usage scenarios are three distinctive cornerstones for achieving optimum performance.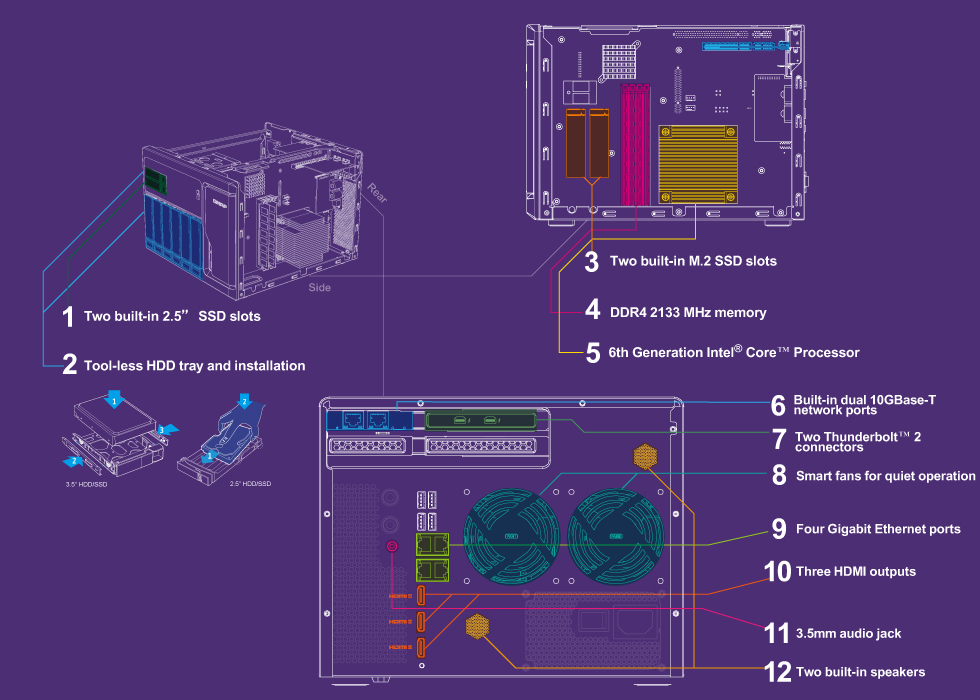 1. 2 x 2.5" SSD slots
Offers flexible configuration in tiered storage and enables cache acceleration.
2. Tool-less HDD tray and installation
2.5" SSD trays and 3.5" hard drive trays feature tool-less design for easy installation and replacement.
3. 2 x built-in M.2 SSD slots
Supports SATA M.2 SSDs with 2242, 2260, 2280, and 22110 form factors; allows the greatest flexibility in tiered storage configuration and enables cache acceleration.
4. DDR4 2133 MHz memory
Supports four DDR4 memory modules for a maximum of 32GB RAM.
5. 6th Generation Intel® Core™ Processor
Features the latest 14nm manufacturing technology with faster buses to support DDR4, PCIe Gen.3, and DMI 3.0 for incredible performance and extremely efficient data transmission.
6. 2 x 10GBase-T network port
Allows optimized network traffic distribution with the other four Gigabit Ethernet ports for diverse applications. The Network & Virtual Switch app makes network management much easier.
7. 2 x Thunderbolt™ 2 connectors
Thunderbolt™ 2 (20 Gbps) capabilities; industry-leading converged storage with Thunderbolt™ DAS/NAS/iSCSI connectivity.
8. Compartmentalized smart cooling
Separately detects the CPU and hard drive temperatures to dynamically control fan speed and performs quieter fan operations.
9. 4 x Gigabit Ethernet ports
Ideal for service binding, port trunking, and MPIO configurations.
10. 3 x HDMI outputs
One HDMI 2.0 port and two HDMI 1.4b ports; supports duplicated and extended desktop options. HDMI 2.0 increases bandwidth up to 18Gbps, and supports 4K 60 fps videos.
11. 3.5mm audio jack
Connect speakers or headphones for direct audio output from the NAS.
12. 2 x built-in speakers
Supports direct audio output and provides verbal system warnings.
M.2 SATA 6Gb/s SSD & 2.5" SSD cache
The TVS-882T provides 2 SSD slots dedicated for caching to increase IOPS performance, and provides higher transfer speeds and reliability with the compact, energy-efficient M.2 SSD. Using an SSD cache boosts overall system performance, and is perfect for improving overall workflow of random IOPS demanding applications such as virtualization. The TVS-882T combines M.2 SSD, 2.5" SSD and HDD in one box to effectively realize tiered storage for exceptional application performance and lower TCO of storage at the same time.