Free shipping
from 20 euros
,
Free returns
Wifimedia
-
Meet the future!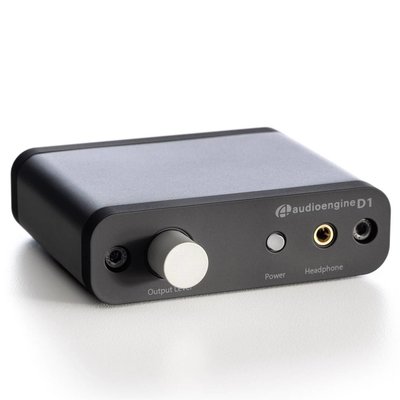 Audioengine
D1 24-bit DAC/Headphone Amp
Online:

Op werkdagen voor 16:00 uur besteld, morgen in huis!

Shop:

This product is available in our shop!
This product is demonstrated in our store. Please make an appointment or visit our store.
Product bundles with D1 24-bit DAC/Headphone Amp
Product description
Audioengine D1 24-bit DAC/Headphone Amp

Audioengine D1 Premium 24-bit DAC (digital-to-analog converter) allows you to bypass your computer's soundcard or headphone output and send audio through USB or optical. D1 is the perfect digital interface between your computer and music system and will improve the sound of ALL your music.
Versatile
The D1 accepts inputs from both USB and optical and has outputs for any audio system or headphones. The D1 DAC is the perfect way to get great-sounding music not only from your computer but also from your TV, Apple TV, DVD/BluRay player or CD player. And since it's powered by USB, D1 is also a high-quality portable computer headphone amplifier.
Designed for the Computer Audiophile
D1 will process digital audio at any bit depth up to 24 bits and any sample rate to 192KHz. With it's high signal-to-noise ratio and low distortion the D1 delivers sound quality generally heard only in more expensive DACs. The high-performance headphone output was designed for a wide range of headphones and will satisfy even the most demanding headphone enthusiasts.
Easy Setup
Setup is easy and no special software is needed, making D1 a true plug-and-play solution. The D1 outputs connect to any audio system or powered speakers, such as the Audioengine A5+ or A2. Power for the D1 is provided via the USB bus so there is no external power supply to connect.
See and Hear the Difference
Audioengine designers, with their attention to audio quality as well as visual aesthetics, have created a feast for both the eyes and ears. The rounded anodized aluminum case of the D1 reflects traditional Audioengine design and the audio fidelity is typical of Audioengine's commitment to great sound at an affordable price. The Audioengine D1 continues to close the gap between your computer music and home hi-fi and even if you're not an audio enthusiast we guarantee your music will sound better!
Features
Desktop or portable digital-to-analog convertor
Mac or PC plug-and-play, no drivers to install
High-performance headphone amp included
USB and optical inputs
USB-powered, no separate power supply needed
Stream bit-perfect HD audio with low jitter
Based on high-performance AK4396 DAC
Works With
Any computer (Mac or PC)
Headphones
Apple TV or any product with optical outputs
Powered speakers
Any audio system with mini-jack or RCA inputs
Specifications
DAC:

AKM4396

DSD:

No

Battery:

No

Bluetooth:

No

Inputs:

USB, Optical

Outputs:

RCA

Headphone Output:

Yes

Dimensions (HxWxD):

25 x 95 x 89

Weight:

Warranty:

36 Months

Package Contents:

USB cable 0.6m, Setup Guide
Reviews
Robbert
Posted on 22 October 2015 at 20:14
Ik heb deze Audioengine D1 24-bit DAC gekocht voor bij mijn Samsung 4K televisie (ook van Wifimedia!). Bij gebruik van mijn hoofdtelefoon worden nl. de speakers van de televisie automatisch uitgezet. Dat vind ik lastig wanneer ik intens naar een muziekuitvoering of film wil kijken en luisteren, terwijl andere aanwezigen terloops kijken. Ook bij aansluiting van een draadloze koptelefoon op de cinch aansluiting registreert de televisie dit en schakelt de speakers uit! Goede raad kwam door een belletje met Wifimedia. Zij adviseerden mij om via een toslink kabel en de Audioengine D1 mijn Hifi hoofdtelefoon aan te sluiten. In Arnhem hebben ze dat geprobeerd op hun aanwezige apparatuur en dat werkte. Nou bij mij thuis werkt dat nu ook prima! De televisie speakers kunnen door iedereen met de afstandsbediening harder of zachter gezet worden, terwijl ik lekker met een direct lijntje onafhankelijk het geluid kan regelen! Ik kan het iedereen echt aanraden om met een goede hoofdtelefoon op, bv. een film of een muziekshow te bekijken. Een super sensatie!
Dank je wel Wifimedia, super service!
Meneer
Posted on 28 October 2014 at 21:31
Vandaag heb ik mijn pc en A5+ aangevuld met de D1.
deze is aangesloten via toshlink. de usb voeding komt van de A5+.

het verschil is meteen hoorbaar! er zit meer diepgang in de muziek en er zit veel meer detail in. (tov mijn moederbord, asus heroVI via mini-jack)

wat wel een min punt is, dat er geen toshlink kabel bij zit. ook dacht ik mooi mijn tweede pc aan te sluiten via jack, maar als er toshlink in zit doet de jack niets!

Wat ook wel vermeld mag worden is dat via usb de max sample rate 96kHz is. alleen via toshlink kan 192kHz gehaald worden.

+ geluids kwaliteit / prijs
+ bouw kwaliteit en afwerking
+- Volume knop? er zijn vast mensen die hem gebruiken...
- Geen toshlink bij geleverd
- geen switch tussen jack en toshlink
Patrick
Posted on 2 June 2014 at 23:50
Dit kleine apparaat alleen al maakt een groot verschil en deed mijn goedkope 50 euro pc speakers klinken als 'bose quality'. Het apparaat is zeer gemakkelijk te installeren (letterlijk 2 draden gewoon erin steken). Ook ben ik tevreden over hoe audioengine alles verpakt heeft, perfect beschermd in de doos en komt tevens met een microfiber draagtasje.


Ik kan dit aan iedereen aanraden die bezig is met een goede audio setup te maken of voor diegene die goede audiokwaliteit willen maar niet het geld hebben/willen spenderen aan dure speakers.
Martin
Posted on 3 February 2014 at 17:18
Ik heb het gevoel dat veel mensen die dit product perfecte scores geven een soort placebogevoel van verbetering hebben of niet echt letten op de details. Het product heeft z'n fouten, vooral op USB.

Ik heb het gespeeld op mijn laptop, en op mijn desktop systeem met msi z87i gaming ac bord (die heeft een aparte USB voeding onboard) en in beide gevallen had hij frequent audio popping/clicks op het USB signaal (met de originele en de pearl USB kabel). Optisch is dit niet aanwezig en ik raad dus ook af de AQ Pearl USB combinatie te kiezen en er gewoon een Optisch kabeltje bij te bestellen.

mvg,
martin.
Hans
Posted on 17 November 2013 at 13:12
dank aan harm voor die opmerking dat je windows wel even moet aanpassen, had ik eerlijk gezegd nog niet aan gedacht: de d1 instellen als standaard, daarna er rechts op klikken, eigenschappen, geavanceerd, en daar kun je dan studiokwaliteit kiezen
Hans
Posted on 15 November 2013 at 11:33
perfecte externe geluidskaart, supersnelle bezorging
Harm
Posted on 11 October 2013 at 11:32
Update:
Nog steeds ben ik van mening dat het een uitstekende keuze is voor multimedia. Met games wil het nog wel eens mis gaan. Na het laden van een spel krijg ik regelmatig een uitbarsting van geluid. De D1 gebruikt standaard drivers van Windows en er is geen update voor de firmware beschikbaar. Ik heb van alles in de configuratie veranderd om het probleem te omzeilen, maar dat is me tot op heden niet gelukt. Als ik de D1 vervang door een soortgelijk product is er geen probleem.

Omdat ik weet wanneer ik de uitbarsting kan verwachten zet ik het geluid even zachter. Jammer genoeg staat de D1 op het uiterste hoekje van mijn bureau. De D1 werkt alleen met de bijgeleverde 68 cm kabel. Als ik het met een langere kabel op mijn PC aansluit, wordt de D1 niet herkent.

Dat zijn toch wel een paar minpunten die op het eerste gezicht niet erg opvallen, maar me nu toch wel gaan vervelen. Ik zou willen dat ik destijds voor iets anders had gekozen.
Hubert
Posted on 9 October 2013 at 21:49
Dit is echt een prima aanschaf.
Handig compact en een erg goed geluid via USB Windows 7 laptop.
Tot nu toe alleen ervaring met de hoofdtelefoon uitgang.
Wel even de juiste componenten van foobar2000 downloaden.
Julius
Posted on 20 April 2013 at 13:14
Zeer tevreden met mijn aankoop. Echt een aanrader. Niet te duur, niet te goedkoop. Ik gebruik mijn DAC in combinatie met Logitech Z623 boxen. Het is een 2.1 set maar het muziek vult de kamer. Zorg er wel voor dat je muziek van hoge kwaliteit is natuurlijk. Liever FLAC bestanden of Apple Lossless als je via je computer gaat afspelen. Ik wens je veel luisterplezier als je de Audioengine D1 gaat aanschaffen!
Harm
Posted on 30 March 2013 at 10:41
Een uitstekend alternatief voor een geluidskaart. Niet vergeten de windows-instellingen op 24/96 studiokwaliteit te zetten. Dat krijgt standaard een lagere waarde en het maakt bij mij toch echt een behoorlijk verschil. Op de Audioengine D1 heb ik de A2 boxen aangesloten en gebruik als koptelefoon de AKG DT770 pro 80ohm. Ik vind het een heel geslaagde combinatie voor een fantastische geluidskwaliteit.
G.J
Posted on 16 October 2012 at 09:01
Uitstekend apparaat en zeer handig in gebruik, vooral als koptelefoonversterker.
Aanrader als je een kleine DAC zoekt!
Wil
Posted on 23 August 2012 at 21:52
Wat een geweldig apparaat. Veel eerder moeten kopen. Maar ja, pas een paar maanden uit. Wat een verschil met het geluid van de geluidskaart van mijn Imac. Moet even een uurtje of 40 spelen en dan klinkt ie NOG beter ! Aanbevelenswaardig en prima service van
Wifimedia. Klinkt fantastisch met mijn B&W P5 en ook met mijn Audioengines A2. En nog bedankt Rik !
Frank
Posted on 22 March 2012 at 20:48
ERG tevreden, zeker in combinatie met de A2 luidsprekertjes ook van Audioengine. Mijn ongecomprimeerde muziek komt mooi tot leven op deze manier. Werkt prima in combinatie met Mac Pro / iTunes.